The Fluke 67 MAX Clinical Infrared Thermometer is a handheld non-contact thermometer optimized for measuring human temperature.
---
An adjustable alarm visually alerts the user when the temperature exceeds a programmed limit.
Withstands 6.5 foot (2 meter) drop
Powered by a single, standard AA battery
Comes with a three-year warranty
Offers small, lightweight form factor to slip in a coat pocket
Clinical infrared thermometer: ± 0.5 °F from 71.6 °F to 109 °F (± 0.3 °C from 22 °C to 43 °C)
Non-contact thermal scanner device for measurement of human body temperature.asurement distance: 2 to 6 inches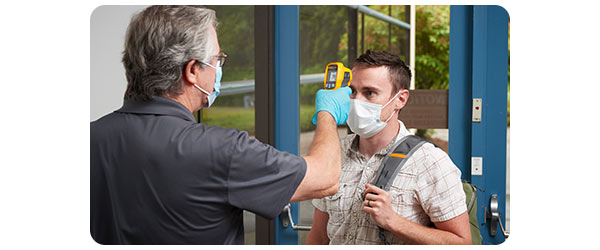 | | |
| --- | --- |
| | Fluke. Keeping your world up and running® - Fluke Calibration is a leader in precision calibration instrumentation and software for electrical, temperature, pressure, flow, and RF measurements. See more of Fluke |
For more information or to place an order, please give us a call at 800-558-1899 or 203-304-0777 . To purchase online please click here .