PRESS RELEASES
FOR IMMEDIATE RELEASE: JUNE 30, 2016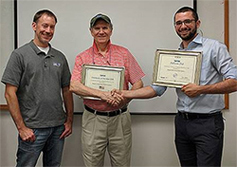 Lenze, Motion Centric Automation global manufacturer has named Walker Industrial their 2016 US Distributor of the Year


NEWTOWN, CT:
Lenze (www.lenze.com), the leading global manufacturer of electrical and mechanical drives, motion control and automation technology, has recognized Walker Industrial as their US Distributor of the Year for 2016.

"Lenze has been a key partner of Walker Industrial for over a decade," said Adam Foley, Director of Operations for Walker Industrial. "We are honored to have received this prestigious designation and look forward to continued mutual success for many years to come."

About Lenze
Lenze Americas (Lenze-AC Tech) develops, manufactures, sells and supports a complete range of drive and motion control products. Their portfolio includes general purpose variable frequency drives, an innovative servo amplifier line, sophisticated servo automation systems and robustly engineered gear motors and mechanical components.

About Walker Industrial
Walker Industrial is America's preferred solutions provider of factory automation and electrical components. As a factory authorized stocking distributor for a large roster of elite brands, Walker Industrial has been helping businesses with their automation and electrical needs for almost 40 years. Walker Industrial offers a number of services to their valued customers, including application solving and product recommendations, OEM and volume pricing agreements, extensive inventory and same day shipping, "System Down" services such as same-day delivery (where available) and Kanban, "Just In Time," and customer-specific inventory. For more information, visit (www.walkerindustrial.com/).