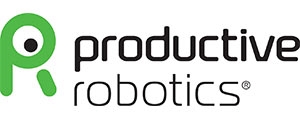 Simple to Use
What do we mean by "No Programming"? - If you can do it, OB7 can
learn it.
Simply "show" OB7 a task using the control handle, and it automatically learns tasks and remembers it for next time. OB7's intuitive control tablet makes it simple to fine-tune and adjust jobs that are simple or complex, and produces real time production data and information. Using visual "tiles" and a "drag and drop" interface, OB7 makes it simple for anyone to teach basic pick and place or more complex jobs like
CNC machine tending
. Staff can learn to use OB7 in a matter of minutes and create, modify, and execute thousands of different jobs instantly.
What's the 7th Axis About?
OB7 reaches where other cobots can't - Providing greater agility, flexibility, and accuracy
OB7's arm has 7 moving joints, like a human arm, which provides more maneuverability and flexibility. With 7 axes, OB7 can reach around objects or obstacles and get into tighter and more confined spaces. The flexibility and dexterity of the 7th axis also frees up space for operators, making it convenient and simple to set up different work stations. Each of OB7's 7 joints can rotate 360 degrees in both directions for unmatched maneuverability.

Click to view the OB7 Specification sheet in *.pdf format
Productive Robotics' full line of next generation cobots built with 7-axis design are ideal for automating simple to complex tasks of various payloads and sizes. Each member of the OB7 family is built in with the same "no programming" user interface, making job teaching simple and fast. With 7-axis capability, each model provides greater flexibility, maneuverability, and seamless integration into existing workstations. Each OB7 7-axis model can be equipped with the human-like sense , providing even simpler, faster and more efficient robot training and operation.