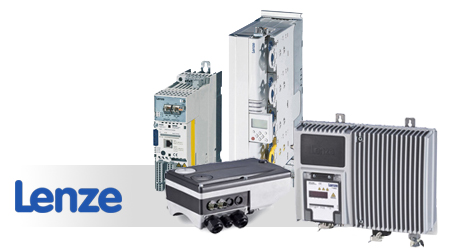 Configurable for all requirements
Lenze manufactures a full range of drive solutions from affordable low-horsepower VFDs to robust HVAC drives to high-precision servo drives.

Call Walker Industrial today for Lenze product selection and availability. Call or email us today!

Decentralized Drives

With Lenze's Drive Drives 8400 protec and 8400 motec, as well as their SMV IP65 (NEMA 4X) Drives, they offer precisely tailored products with a high degree of protection for decentralized applications, available in either motor-mounting or wall-mounting versions. Their compact design allows devices to be secured directly to the machine support, for example, thus shortening the length of the motor cables considerably. This enables even complex machines to be structured clearly. Decentralized Drives are particularly beneficial in the automotive, intralogistics and printing industries.
Control Cabinet Drives

Drives for control cabinet installation are designed for IP20 and IP31 protection. For some devices, not only is the easy installation mode possible, but the ability to use the cold-plate or push-through installation technique is as well. The devices can be installed one after the other to save space, and they can be used in a DC bus operation, keeping the wiring efforts to a minimum.
Thus, topologies can be clearly arranged even in the smallest spaces. All other control components, like the controller, the I/O system, are mounted right next to the Drives.