EKI-2528I-M12 from Advantech
The EKI-2528I-M12 unmanaged switches are designed for application in harsh environments. First of all, the switches provide 8 Fast Ethernet ports with M12 D-coded connectors which can connect the cables tightly against vibration and shock. Second, the switches support 10/100 Mbps, auto MDI/MDI X, broadcast storm protection. Third, when supporting wide power input...
M12 Connectors and IP67 housing
Provides 8 fast Ethernet ports with Auto MDI/MDI-X
Supports 10/100 Mbps auto-negotiation
Complies with IEC 61131-2 specifications
Supports redundant 12 ~ 48 VDC power input
Supports wide operating temperature range from -40 to 75 °C


Why the Advantech EKI-2528I-M12?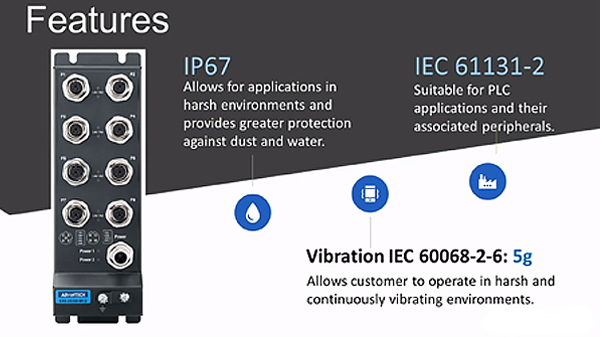 Advantech is a global leader in the fields of IoT intelligent systems and embedded platforms. To embrace the trends of IoT, big data, and artificial intelligence, Advantech promotes IoT hardware and software solutions. Advantech is also working with business partners to co-create business ecosystems that accelerate the goal of industrial intelligence. learn more...