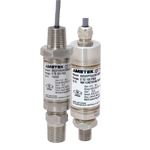 Model IDT - For Hazardous Area Applications
Intrinsically Safe Pressure Transmitter
The Model IDT intrinsically safe pressure transmitters are specifically designed for use in hazardous area pressure measurement applications that require a compact design.
The IDT offers precision accuracy at +/-0.2% FS (BFSL) typical. The design incorporates a stainless steel isolation diaphragm and 316 stainless steel construction for use with most media types.
The IDT is offered in pressure ranges from full vacuum to 5000 psig and 15 psia through 300 psia. The transducer also accepts both regulated and unregulated excitation voltages and provides output signals such as 1-5 VDC, 1-6 VDC, 0-5 VDC, 0.5 to 4.5VDC and 4-20 mA.
Intrinsically safe, with FM USA and Canada, ATEX and IEC approvals
Pressure ranges from vacuum up to 5000 psi
All 316 SST construction with options for Hastelloy and Monel diaphragms
Compact size
Very competitive price
AMETEK, Inc. is a leading global manufacturer of electronic instruments and electromechanical devices. AMETEK consists of two operating groups: Electronic Instruments - a leading manufacturer of advanced monitoring, testing, calibrating, and display instruments for the process, aerospace, power and industrial markets worldwide. Electromechanical – a differentiated supplier of electrical interconnects, technical motors and systems, and electric motors for floor care and other specialty applications.
For more information or to place an order, please
give us a call at (800) 876-4444 or (203) 426-7700.
Online Ordering for All AMETEK Products is Available - Shop Now!



CALL US FOR ALL OF YOUR AUTOMATION NEEDS


Walker Industrial is America's Preferred Automation Solutions Provider