1989 Quik-Set Multi-Turn PLS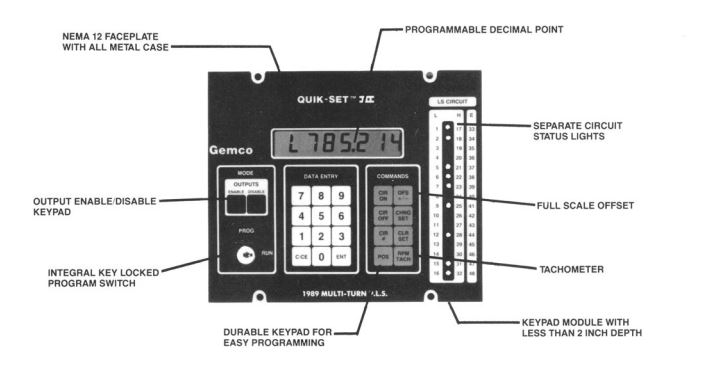 *** Call, email or live chat today with any questions or to place a custom order! ***

Quik-Set III High Resolution Single Turn & Multiturn PLS
Up to 48 Circuits
Scan Time as Low as 17 Microseconds
EEPROM Memory
Multiple Program Capability
Single or Dual Axis Input
Choice of Transducers: Resolver-Single or Multiturn, Linear Displacement Transducer, Optical Encoder
4-20mA or 0-10V Analog
Fault Check Circuitry and Brake Monitor for Press Controls
Resolution to 1 Part in 4,194,304
Key Locked Program Security
Programmable Decimal Point
Programmable Scale Factor
Special Software Available
Portable Keypad
RS-232 or RS-422 Serial Communication
Speed Offset
Remote Reset
BCD, Binary, or Gray Code Output of Position or RPM
Industrial Duty Transducers
Mill Duty Enclosures
Linear Actuators
Cable Drives
Combination Mechanical Cam Transducer Packages
Custom Sensor Assemblies

Description

The QUIK-SET III is a fully integrated microcomputer-based Programmable Limit Switch (PLS) with a convenient keypad for programming each independent output circuit to open or close at the desired settings. The system allows precise position control of either rotary or linear motion through the keypad or by a remote programmable controller, computer, or via and remote serial data link using RS-232 or RS-422.

The Programmable Limit Switch receives a signal from the transducer and converts the signal to the appropriate binary code.

As the transducer passes through the preprogrammed dwell settings, the programmer outputs can energize soleniods, relays, or solid state circuitry to control external circuits providing accurate repetitive and sequential operations.

Standard programmers are available with 16, 32, and 48 circuits all operating from a single transducer.

The dual axis programmer, with 16 or 32 outputs, can control two independent axes and provide substantial economy for multiple axis equipment.

The QUIK-SET III PLS is available for inputs from single or multiturn resolvers, linear displacement transducers, optical encoders, or analog signal devices.

Optional features include a portable keypad for cost savings on multiple units, multiple programs which offer fast and easy production changes, and dual channel inputs for dual axis or differential outputs. A fault check and a brake monitor circuit are available to provide safe reliable operation for overall press control and feed operation.

Application

Gemco's QUIK-SET III Programmable Limit Switch is a pilot device used for industrial applications such as material handling, assembly machines, mechanical presses, packaging machines, steel mills, and many other applications where accurate repetitive and sequential operations are required in control circuitry.

The Microcomputer Programmable Limit Switch makes it possible to program the opening or closing of independent circuits at a desired position of the transducer, even while the machine is in motion. When a resolver transducer input is used, the programmer can be located as far as 3000 feet from the machine.




Download the 1989 Quik-Set Multi-Turn PLS data sheet in *.pdf format.



Download the 1989 Quik-Set Multi-Turn PLS Manual in *.pdf format.

*** Call, email or live chat today with any questions or to place a custom order! ***