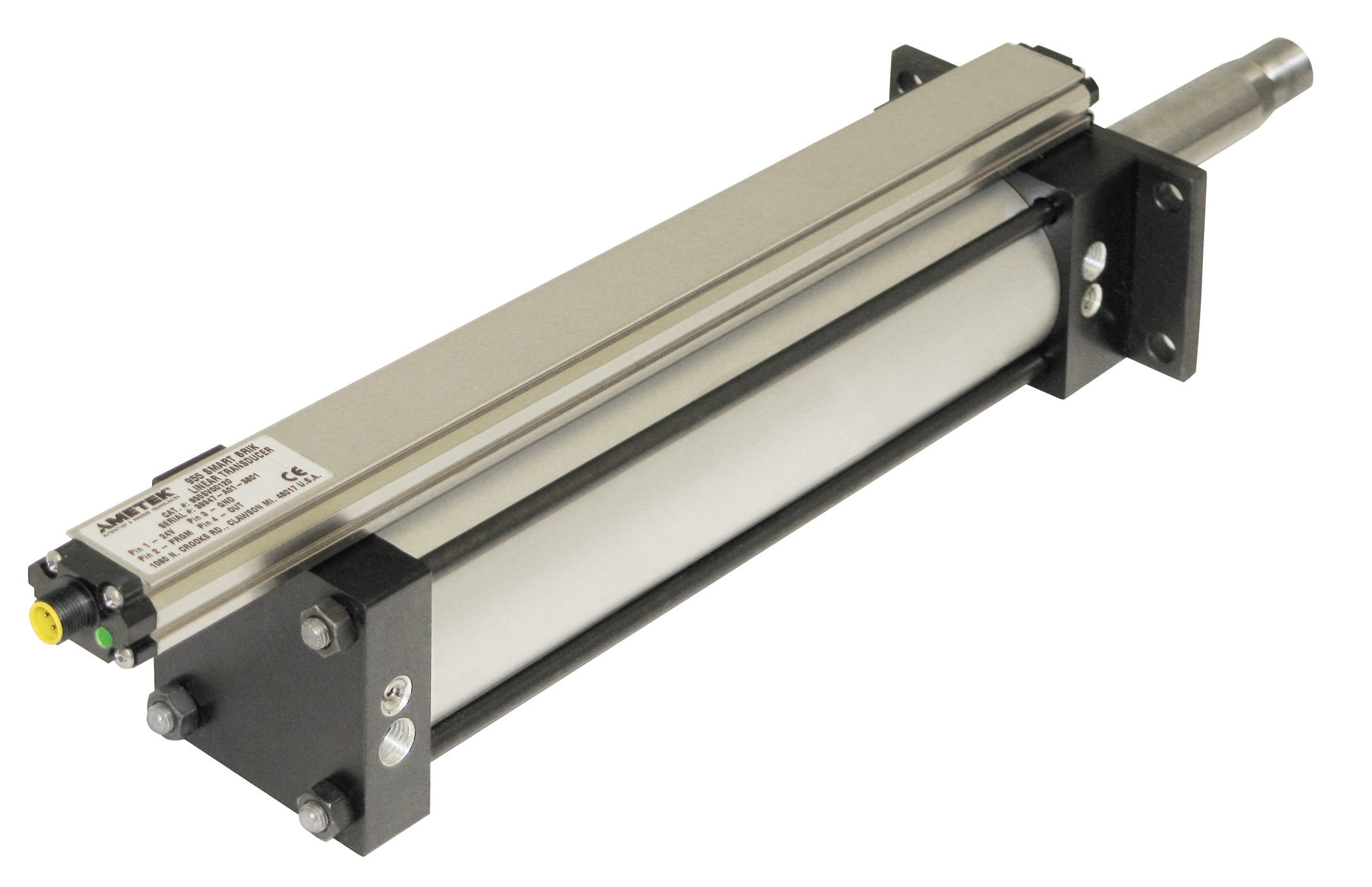 955C BRIK Gen III LDT for Pneumatic Cylinders

*** Call, email or live chat today with any questions or to place an order! ***

With the demand for automation greater than ever, the need to replace limit and zone sensors on pneumatic cylinders with continuous feedback has become obvious. Speeding up and improving your process is what you need in order to stay competitive. Knowing your exact position at any given moment is essential to that end.

Replace your existing limit sensors with the GEMCO 955C BRIK GEN III for continuous position feedback with your choice of Analog, Digital, or Quadrature outputs. The 955C BRIK GEN III senses the magnet located in your existing pneumatic cylinder and uses it to relay absolute positioning information to the machine's controller. The 955C BRIK GEN III can be retro-fitted to cylinders in the field using standard mounting brackets or your own customized solution. The 955C solution has no moving parts to wear out. Magnetostrictive technology is used to "see" through the aluminum extrusion and detect the position of the magnet mounted inside the cylinder.

Three versions of the 955C BRIK GEN III are available.

The 955CA offers analog output in either voltage or current with your choice of 0 to 10 VDC, 10 to 0 VDC, 4 to 20mA, or 20 to 4mA. The unit can easily be reconfigured in the field from a 0-10 VDC to a 10-0 VDC or 4-20 mA to a 20-4 mA output.

The 955CD is designed for digital output with choice of Control Pulse, Start/Stop Pulse, or Variable Pulse output.

The Quadrature output from the 955CDQ allows wiring directly to any incremental encoder input card, without the need for a special converter module or a PLC interface card. The 955CDQ can be ordered with 1-9999 cycles per inch of output resolution in lengths of 5 to 180 inches. The transducer features an input to re-zero the probe "on-the-fly". Another unique feature is the "burst" mode. An input on the transducer triggers a data transfer of all the incremental position data relative to the set zero position. This can be used to achieve absolute position updates when power is restored to the system, eliminating the time-consuming need to "re-home" the machine.

Another feature is that the analog output is programmable over the entire active stroke length. The active stroke area of the LDT lies between the Null Zone and the Dead Band.

There is also a diagnostic LED located at the connector to minimize setup time and troubleshooting. The LED is green in normal operation. Red will indicate no magnet present or that the magnet has moved out of sensing range. Yellow is an indication the magnet is out of the programmed active range or if no interrogation signal is detected.

The enclosure comes standard as IP67; however, upgrading to IP68 is available as an option so the LDT can be used in wet environments.

Note: The Pneumatic cylinder must have a magnet in order to work. Each cylinder manufacturer uses different types of magnets. In most cases the cylinder supplier installs the magnet so that the South Pole is facing out. To date, we have successfully worked with most brands of pneumatic cylinders.


Specifications
Input Voltage

13.5 to 30 VDC
Current Draw
2.5 Watts Maximum,
120 mA@ 15 VDC Typical
Output
Analog: 0 to 10VDC, 10 to 0 VDC, 4 to 20 mA, 20 to 4mA.
Digital: Control Pulse, Variable Pulse, Start/Stop
Quadrature: A+, A-, B+, B-, Z+ ,Z
Line Drivers : 5V or Input Power
Resolution:
Internal
Analog Output
Digital Output
Quadrature

0.001"
16 Bit (1 part in 65,535)
Controller Dependent
0.001"
Non-Linearity
+/- 0.05% of Stroke
Repeatability
+/- 0.006% of Full Stroke
Hysteresis
+/- 0.02% of Full Scale
Update Time
Analog
50" or less:
51" to 100":
101" to 150":
151" to 180":
Digital


1ms
2ms
3ms
4ms
Controller Dependant
Operating Temperature
20º to 70º C
Span Length
5" to 180"
Null Zone
3.0"
Dead Band
2.0"
LED
Tricolor diagnostic LED for communication of LDT status.
Connector
955CA:
955CD:
955C DQ:

Standard 5 Pin Micro 12mm Euro Connector
Standard 6 Pin Micro 12mm Euro Connector
Standard 12 Pin Micro (option E) 12mm Euro Connector or 10 Pin HRS (option H)
Approvals
CE
Enclosure
IP 67
IP 68 Optional
Specifications are subject to change without notice.
Specifications are based on a typical 36" LDT .

Download the 955C BRIK Gen III LDT brochure in *.pdf format.

*** Call, email or live chat today with any questions or to place an order! ***