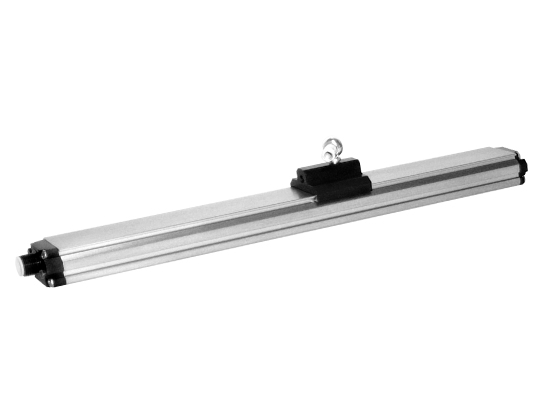 955DQ Digital BRIK LDT - Gen III With Quadrature Output

*** Call, email or live chat today with any questions or to place an order! ***

955DQ BRIK Gen III Magnetostrictive LDT In A Low Profile Package

The 955DQ BRIK is an accurate, auto-tuning, noncontact linear displacement transducer in an economical, low profile package with direct quadrature output.

This new method of interfacing magnetrostrictive transducers offers an interface as common as analog but with the speed and accuracy of pulsed type signaling. The Gemco 955DQ linear transducer provides quadrature output directly from the transducer to the controller. The output from the transducer can be wired directly to any incremental encoder input card, without the need for a special converter module or a PLC interface card designed specifically for use with a pulsed output magnetostrictive transducer.

The streamlined anodized aluminum extrusion houses the sensing element and electronics. The BRIK with quadrature output is a self-contained unit and does not have a can or head assembly. All of the electronics are incorporated in the transducer which is less than one inch deep. The magnet slide is designed to move effortlessly along the transducer in a guide track or a floating magnet assembly can be positioned above the unit.

The 955DQ BRIK has a few truly unique features. First, the LDT has auto-tuning capability. This is the abiliy to sense a magnet other than the standard slide magnet and adjust its signal strength accordingly. Another feature is a diagnostic LED located at the connector end of the probe that remains green when a good magnet signal is present and power is normal. The LED turns red when there is no magnet present or the magnet assembly is out of the sensing area.

The 955DQ LDT can be ordered with 1-9999 cycles per inch of output resolution in lengths of 5 to 180 inches. The transducer features an input to re-zero the probe "on-the-fly". Another unique feature is the "burst" mode. An input on the transducer triggers a data transfer of all the incremental position data relative to the customers set zero position. This can be used to achieve absolute position updates when power is restored to the system, eliminating the time consuming need to "re-home" the machine.


Input Voltage

- 13.5 to 30 VDC

Current Draw - 2.5 Watts Maximum, 120 mA @ 15 VDC Typical
Output -

Quadrature Output: A+, A-, B+, B-, Z+, Z-
Line Drivers Output: 5V or Input Power

Resolution - 0.001"
Non-Linearity - +/- 0.05% of Stroke
Repeatbility - +/- 0.006% of Full Stroke
Hysteresis - +/- 0.02% of Full Scale
Update Time -

50" or less - 1ms
51" to 100" - 2ms
101" to 150" - 3ms
151" to 180" - 4ms

Operating Temperature - -20° to 70° C
Span Length - 5" to 180"
Null Zone - 3.00"
Dead Zone - 2.00"
LED -

Green = Power is applied and magnet is present.
Red = Fault, magnet is in the Dead Zone or lost.

Connector -

Standard 12 Pin Micro (Option E)
12mm Euro Connector 10 pin HRS (Option H)

Approvals - CE
Enclosure- IP67, IP68 Optional
Specifications are subject to change without notice. Specifications are based on a typical 36" LDT.



Download the 955DQ Digital BRIK Gen III LDT brochure in *.pdf format.



Download the 955DQ Digital BRIK Gen III LDT manual in *.pdf format.

*** Call, email or live chat today with any questions or to place an order! ***