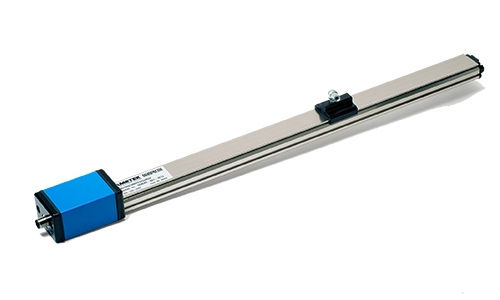 957 A/D/SSI BRIK LDT


*** Call, email or live chat today with any questions or to place an order! ***

Overview
The 957 Brik™ is a Magnetostrictive Linear Displacement Transducer (LDT) for highly accurate continuous machine positioning in a variety of industrial applications.
This sensor is built to withstand the demanding processing challenges, regardless of application or operating environment. The highly versatile 957 Brik™ LDT offers absolute accuracy and reliability with high resolution and precision repeatability. The non-contact design allows this device to be used in highly repetitive applications without mechanical wear.

The 957SSI Brik™ is available with Analog, Digital (Start/Stop), PWM and Serial Synchronous Interface outputs and offers competitive style connectors for truly drop-in replacement.

There is an indicator LED that is located at the connector end of the probe and provides visual status information regarding the operation of the probe.

Units can be ordered in span lengths from 1" or 180" in 0.1" increments.

Features
SSI (Synchronous Serial Interface) 24, 25 or 26 Bit, Binary or Gray Code, Synchronous or Asynchronous Mode
Digital Outputs, Start/Stop, Variable Pulse (PWM), Control Pulse
Analog Outputs, 0-10 VDC, +/-10 VDC, 0-5 VDC, +/-5 VDC, 4-20mA
High Shock Resistance to 1000Gs (lab tested) IEC 60068-2-27
High Vibration Resistance to 30Gs (lab tested) IEC 60068-2-6
Linearity +/-0.01%
Wide Input Range of 7-30 VDC @ 1 Watt
Heat & Contaminant Resistance
IP67 Rating
Tri-color Diagnostic LED
Programmable Zero & Span
Sensor Length up to 180"
Competitive style connectors for drop-in replacement

Download the 957 BRIK LDT brochure in *.pdf format.


Download the 957A BRIK LDT manual in *.pdf format.


Download the 957D BRIK LDT manual in *.pdf format.


Download the 957S BRIK LDT manual in *.pdf format.

*** Call, email or live chat today with any questions or to place an order! ***