Model IDT - IS Pressure Transmitter





Model IDT - For Hazardous Area Applications
INTRINSICALLY SAFE PRESSURE TRANSMITTERS

*** Call, email or live chat today with any questions or to place a custom order! ***

The Model IDT intrinsically safe pressure transmitters are specifically designed for use in hazardous area pressure measurement applications that require a compact design.

Intrinsically safe approvals for the IDT includes FM US and FM Canada (cFMus), ATEX and IECEx for worldwide users' pressure measurement requirements. The IDT offers premium performance and versatility of use for many applications including upstream oil and gas, general industrial end users, and OEMs.

The IDT offers precision accuracy at +/-0.2% FS (BFSL) typical. The design incorporates a stainless steel isolation diaphragm and 316 stainless steel construction for use with most media types.

The IDT is offered in pressure ranges from full vacuum to 5000 psig and 15 psia through 300 psia. The transducer also accepts both regulated and unregulated excitation voltages and provides output signals such as 1-5 VDC, 1-6 VDC, 0-5 VDC, 0.5 to 4.5VDC and 4-20 mA.

The IDT transducer is manufactured in the United States under ISO 9001:2008 and meets ARRA.

Features:

Compact rugged design for tough applications.
All 316 Stainless Steel Construction and Wetted Materials- Resists the corrosive effects of caustic medias or wash downs and is compatible with a variety of media.
Hastelloy diaphragm for Hydrogen Sulfide H2S applications. Monel is also available.
0.2% Typical Accuracy- Offers superior accuracy to competitive models and can be used on critical applications.
Factory Calibrated for Pressure and Temperature-No need for field calibration. Plug and Play reliability.
Wide Pressure Ranges and Types (PSIG,PSIA,PSIS, Compound)- Can be used in a variety of applications.
RFI/EMI Protection-For use in high noise environments -EN 61326-1
Transient / Burst / Surge Protection - EN61326-1 Secondary protection available with Model LMA912
Reverse Polarity Protection- Installation safety and not damaged by reverse wiring.
Numerous Electrical Outputs and Connections-Allows quick hook-up and use with standard process equipment, conventional receivers, and compatible with microprocessors.
Low Power Voltage Output- Allows for solar and battery operation and longer life.
Custom Designs Available- OEM oriented to special needs.
Specification
Pressure Ranges - Reference Chart Below
Consult Factory for Non Standard Ranges
VACUUM Up to 5000 psi PSIG, PSIS, and PSIA
Available
0 – 1 P
0 – 3 PSI
0 – 6 PSI
Accuracy @25°C Including Linearity (BFSL) Hysteresis &
Repeatability
±0.2% FS TYP, ±0.25% FS MAX
±1.0% FS MAX
±0.5% FS MAX
±0.5% FS
MAX
1 Yr. Stability
< 0.25% FS
< 1.0% FS
<1.0% FS
< 0.5% FS
Load Limitation
10K Ohms MIN (All Voltage Outputs) 600 OHMS MAX (4-20MA)
Input/Output
11-28VDc/4-20mA, 9-15VDC/1-6VDC, 8-15VDC/1-5VDC, 8-15VDC/0.5-4.5VDC, 8-15VDC/0-5VDC
Pressure Response Time (Voltage)
<15mSEC
Power On Response Time (Voltage)
<100mSEC
Power (Voltage)
45mW @ 9VDC INPUT, TYPICAL
Total Error Band (Includes Temperature Effects, Zero &
Span Set)
±1% FS
±2.5% FS MAX
±2.5% fs MAX
±1.5% FS
MAX
Vibration
IEC 60068-2-6
Shock
IEC 60068-2-27
EMC
EN 61326-1
Process Wetted Material
316 Stainless Steel
Electrical Housing Material
316 Stainless Steel
Diaphragm Material
316 Stainless Steel (Standard): Hastelloy or Monel Options
| | | |
| --- | --- | --- |
| Standard Pressure Ranges | Overpressure | Burst Pressure |
| PSI: 1, 3, 6, 15, 30, 60, 100, 150, 200, 300, 500, 1000, 2000, 3000, 4000, 5000 | 2X | 3X |
| BAR: 0.07, 0.2, 0.4, 1, 2, 4, 6, 10, 13.5, 20, 30, 60, 100, 120, 200, 280, 340 | 2X | 3X |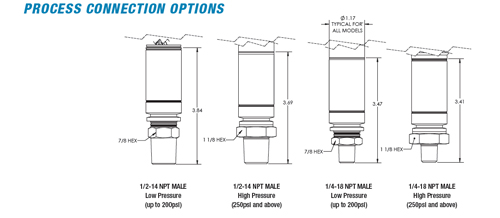 Download the Model IDT - For Hazardous Area Applications brochure in *.pdf format.

*** Call, email or live chat today with any questions or to place a custom order! ***