| | | |
| --- | --- | --- |
| | EZ Screen Safety Light Curtain Cordsets | |
End-to-End Safety Sensing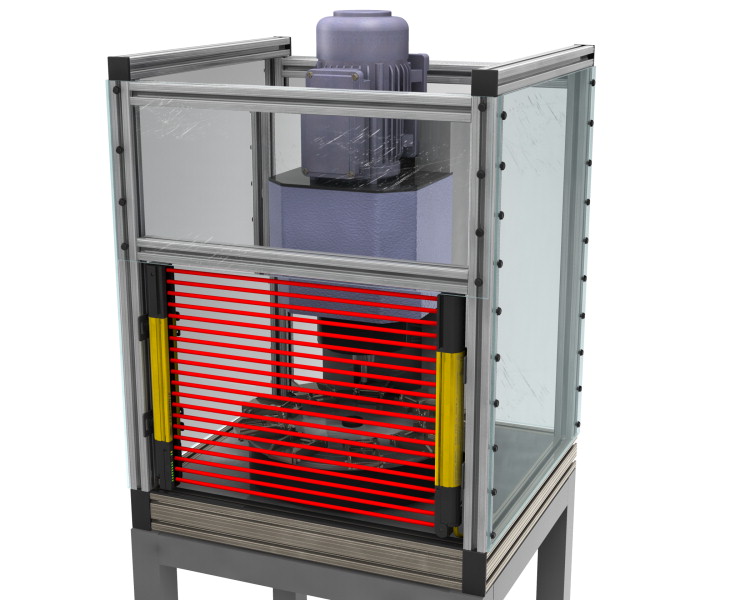 This rotary-fed assembly machine is surrounded on three sides by hard guarding; the opening can be protected efficiently and effectively with a low-profile light screen. For a traditional safety light screen (or safety light curtain) to protect the entire opening, the sensors typically must be mounted outside the machine frame. This can cause snag and aesthetic issues with the sensors and cabling. Mounting the sensors within the machine frame can solve these issues, but can create other problems. For example, if a light screen with a dead zone is mounted with a gap at the top and/or bottom of the sensing field, the separation (safety) distance must be increased. If the larger separation (safety) distance is not complied with, this dead zone can lead to a hazardous situation.
Description
The solution requires the sensor to mount snugly within a machine opening, with continual end-to-end sensing that leaves no gaps. This enables the light screen to be located a minimum distance from the machine hazard point, using minimal floor space (which reduces the reach for the operator), and eliminating snag and aesthetic issues.

At 28 mm x 26 mm (1.1" x 1"), Banner's EZ-SCREEN LP safety light screen is incredibly compact and can mount in tight spaces. Its 14 or 25 mm resolution (depending on model) extends from sensor end to end.

The EZ-SCREEN LP is the ideal solution to maximize ease of installation and flexibility eliminating the need for additional hard guarding or separation (safety) distance that minimizes floor space. The mounting scheme includes brackets for end or side mounting with no "dead zone"; both bracket styles are included with each sensor. Additional mounting options include a "Universal" adapter bracket for mounting to slotted framing, a solution for mounting the sensor inside tubular framing, such as P1000 Unistrut®, and fixed or pivoting angle brackets for quick and easy installation of cascaded sensors.

Choice of housing color and low-profile design that fits the profile of the machine frame provide pleasing aesthetics. Additionally, the EZ-SCREEN LP has outstanding on-board alignment and diagnostic aids, does not require an external device for programming, and can be enhanced with the addition of Banner's EZ-LIGHT for remote status indication.

Click to view the
EZ-Screen Safety Light Curtain specification sheet in *.pdf format