A suite of wireless products for indication, notification, control, and people counting for any place of business.
Customizable wireless indication lights
The wireless K70 and TL70 lights are bright, highly visible indicators that provide instant visual communication. Wireless connectivity enables real-time indication and allows for data to be collected for reporting. Used in conjunction with sensors, timers, or remote buttons, can be used for traffic management, cleaning notifications, and more!
Direct Select wireless operator interface
This multi-function operator interface offers incredible versatility. It can be used to control remote lights or devices, count occupants, send and receive information, direct actions, track performance, monitor equipment and more.
Q45 Directional paired sensors
These paired wireless sensors offer advanced economical solution in a rugged housing. By pairing two sensors together, the system is able to determine direction as people pass by, counting up and down to monitor occupancy.


Some Possible Applications:
Occupancy Monitoring Made Simple:
Use the directional sensors to count entry and exit, the indicator light to notify the next guest when it's okay to enter, and the operator interface to count the occupants and allow manual override.

Create and Maintain a Clean Work Area: Use an indicator light and the timing function of the operator interface to notify employees when it's time to change PPE, clean the station or area, or any other function.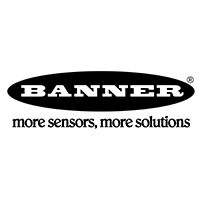 Worldwide leader in process automation and industrial automation
Banner is a global leader in process and industrial automation, helping customers increase efficiency, reduce costs, ensure quality, monitor and control processes, and safeguard employees.
For more information or to place an order, please give us a call at 800-558-1899 or 203-304-0777 . To purchase online please click here .