Trapped key interlocking is a tried and tested method of mechanically
safeguarding dangerous machines and hazardous processes.
Solve your safety issues by selecting the required products in order of the steps shown here:

Power and Control Isolation
Identify the energy sources to be isolated and/or any hazard that cannot immediately be isolated such as; heat, pressure, radiation or machine rundown time.
Key Exchange
Identify the type and number of access points.
The modular system allows the safeguarding of potentially hazardous areas without the need of wiring. All mechanical mGard configurations are also suitable for use in areas where explosive or flammable gases for dust particles may be present. Key Exchange and Door Lock Units can easily be extended with an extension module (XMA).
Door Locks and Actuators
Identify the type of access point; part body or full body access doors with or without the use of personal safety keys (to prevent accidental lock in).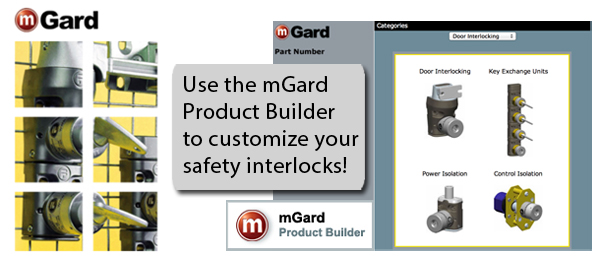 Specifications:

Resistant to dust and tolerant of continuous and frequent grinding
Factory lubricated with WD40 or equivalent
SS and SLS units use a 12W dc solenoid, 110V units incorporate a bridge rectifier
Max temperature at 55° C with peaks up to 60° C (24 hr)
Min temperature at -5° C under normal use, -25° C if there is no excessive shock
mBob adaptor can be used with DM, XM & BM
Standard 20A switch will work down to 5mA at 20V
Interlocks good for years of extended use even with cement present
6A switch with gold plated contacts available (1mA at 1V)
20A Approvals BS, CCC, CSA, GOST, IEC, UL
32A Approvals BS, CSA, GOST, IEC, UL
63A Approvals BS, CSA, GOST, IEC, UL
150A Approvals BS, CSA, GOST, IEC, UL

For more information or to place an order, please give us a call at 800-876-4444 or 203-426-7700. To purchase online please click here.





Online Ordering is Now Available For All Fortress Products
Click Here to Shop Now!