Washdown Ready Enclosures
Many industries today are seeing increased demand for extreme cleanliness and cost competitiveness. These enclosures from Hammond Manufacturing remove all potential harbors for small food particles and bacteria - this makes the cleaning process simpler, faster and more cost-effective.

Available as standard or pushbutton enclosures
Sloped on 4 sides to prevent water from resting on top regardless of enclosure orientation
Extra smooth stainless steel finish, simplified hardware and a food grade blue silicone gasket mounted on the door's edge
A wide range of sizes and practical accessories make this product line a complete package.

---
Hammond Manufacturing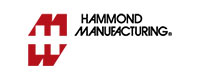 For more than 100 years, customers who have required unsurpassed performance, wide selection and durability for power distribution, racks and enclosures have relied on the Hammond brand.
The core products for Hammond Manufacturing continue as electrical and electronic enclosures, racks and cabinets, power bars and electronic (low-voltage) transformers.
For more information or to place an order, please give us a call at 800-558-1899 or 203-304-0777 . To purchase online please click here.