HOLLOW SHAFT STEP MOTORS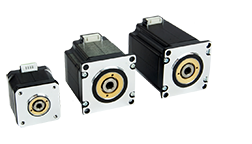 We are pleased to announce the introduction of five new step motors to Applied Motion's product line. These innovative motors come with hollow shafts, making them great choices for applications that require special shafts such as lead screw and nut assemblies. The hollow shaft permits a lead screw or other special shaft to be assembled directly to the rotor of the motor, simplifying the design and reducing the number of components. This design also reduces the size of the actuator assembly and minimizes cost compared to more complex actuator designs.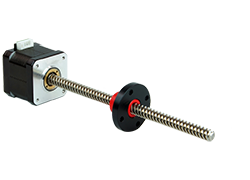 A hollow shaft step motor has a machined hole running axially through the center of the motor, in place of where the shaft would normally be.
Hollow shaft motors are great for applications that require a special shaft; including lead screw and nut assembly. The hollow shaft permits a lead screw to be assembled directly to the rotor of the step motor.
The inside diameter of the hollow shaft is 5 mm for NEMA 17 motors and 8 mm for NEMA 23 motors.
Hollow shaft step motors operate the same as step motors with standard shafts, so they can be used with the same type of drive electronics.
Hollow shaft for mounting custom shafts or lead screws

High torque design

Low cost

1.8 degree step angle (200 steps/rev)

2-phase step motors

NEMA 17 and 23 frame sizes

All motors shipped with detachable lead/connector pigtail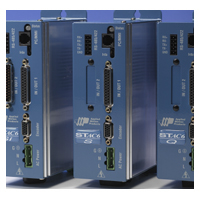 Applied Motion Products specializes in high-precision, cost-effective motion control products. They offer a full complement of stepper and servo, drives, motors, controllers, gearheads, and power supplies to serve a diverse industrial and OEM customer base.
Applied Motion offers a powerful range of standard products to meet your motion control requirements. If your application demands something unusual or unique, they can engineer a design to optimize the product's performance for your needs.
For more information or to place an order, please
give us a call at (800) 876-4444 or (203) 426-7700.
Online Ordering for All Applied Motion Products is Available - Shop Now!



CALL US FOR ALL OF YOUR AUTOMATION NEEDS


Walker Industrial is America's Preferred Automation Solutions Provider