The KBAC series features rugged, die-cast aluminum
gray finish and FDA approved white finish enclosures!
The KBAC drives offer these benefits:

Saves time - Easy to install and simple to operate. Does not require programming or commissioning. Up and running in less than 10 minutes.
Motors last longer - Proprietary software that provides overload protection, prevents motor burnout and eliminates nuisance tripping. UL approved as electronic overload protector for motors.
Energy saving - Uses only the power the application requires. Energy savings is realized by using variable motor speed vs. constant speed motors.
Economical to use - Eliminates secondary enclosure, both indoors and out. No holes to drill, no switches to install. No need to derate drive for high starting torque applications. Combines adjustable soft start with variable speed.
Customization - Custom labeling, preset calibration, installing drive options and custom software. Ready to use out of the box.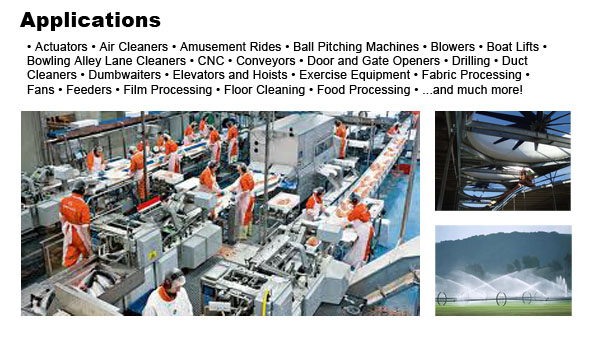 Features:

Sensorless Flux Vector Control provides excellent speed regulation
Electronic Inrush Current Limit Protection eliminates harmful inrush AC line current during power up
Run/Fault Relay Output Contacts can be used for multiple conditions
Start/Stop Switch provides electronic "Start" and "Stop" functions
Ride-through provides smooth recovery to previous preset speed during power loss
Holding Torque at Zero Speed resists motor shaft rotation when the drive is in "Stop" mode
Regeneration Protection eliminates tripping due to high bus voltage
Undervoltage and Overvoltage Protection shuts down the drive if AC line input goes above or below operating range
Short Circuit Protection shuts down the drive if a short circuit occurs at the motor
Basic, Programmable, Trimpot Adjustments for min. speed, max. speed, accel, decel, current limit, slip comp.

For more information or to place an order, please give us a call at 800-876-4444 or 203-426-7700. To purchase online please click here.





Online Ordering is Now Available For All KB Electronics Products
Click Here to Shop Now!