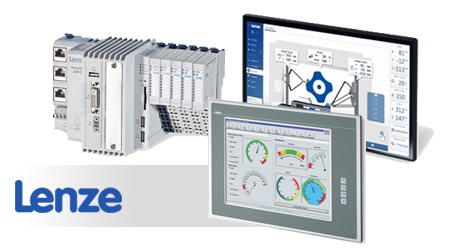 Automation - a true system
Packaging machines, robotics, and handling systems are often particularly challenging from the standpoint of automation technology. They require a powerful and homogeneous system capable of controlling coordinated movements along several axes. The system must also be able to assume the control function of a linear process.

For these automation tasks, you will find the controllers you need for controller-based and drive-based automation.

Call Walker Industrial today for Lenze product selection and availability. Call or email us today!

Controller 3200 C
The compact heart of your automation systems. The Controller 3200 C with Atom processor offers everything that an automation specialist desires from a strong partner: a compact and especially robust design, large power reserves and a comprehensive set of features.

Logic (PLC), motion and visualization in a single device
Easy engineering with remote data storage
High-precision control for optimum production results
Easy mounting onto a DIN rail in the control cabinet
I/O system 1000 can be directly connected as local I/Os
Top performance and maintenance free in the smallest of spaces without forced cooling and other moving components
Prepared for the future thanks to compliance with industrial standards
IEC 61131-3, PLCopen, PLC Designer based on CoDeSys 3
Industrial communication: EtherCAT on board and Ethernet switch integrated
Intel Atom® processor

Controller c300
The slimline solution for the control cabinet. Based on the 3200 C, the c300 fits seamlessly into Lenze's platform which is built on a consistently modern system architecture. The benefits: within the Controller-based Automation system, the precisely tailored Controller c300 takes responsibility for all of your control tasks. It focusses primarily on basic control (PLC) and motion tasks. Space-saving and intelligent at the same time.

Small control system with I/O modules which can be connected in series and integrated master interfaces for EtherCAT and CanOpen
Easy standard set-up and data backup via USB flash drive
Can be extended with communication interfaces (PROFIBUS slave, PROFINET device)
Future-proof due to compliance with industrial standards
High system-availability
Integrated UPS solution
Easy device replacement thanks to replaceable memory card
No need for maintenance thanks to battery-free and fanless design

Controller p300
Visualization that's a touch smaller. Based on the Panel Controller p500, the new p300 fits seamlessly into Lenze's platform which is built on a consistently modern system architecture. It combines logic (PLC) and visualization in a compact device and is ideally suited to machine applications which only require a low processing power. With the same system properties as its older brother, its strength lies in its visualization capabilities when used as an HMI. By extending the Controller portfolio with the p300, Lenze has opened up new possibilities within the system. Isn't it great when engineering is so easy?!

Robust industry-compliant Panel Controller available in sizes 10.9 cm (4.3"), 17.8 cm (7") and 26.4 cm (10.4")
For basic to complex control and visualization tasks
Uniform engineering in all phases of the customer's machine development process
High degree of system availability
Integrated UPS solution
Simple device replacement via replaceable memory card
No maintenance required thanks to battery-free and fanless design

Controller p500
It's easy with everything on the screen. Lenze has taken yet another step towards creating an easier future with the p500 – a perfect combination of maintenance-free panel-mounted controller, logic (PLC), motion and visualization in a single device. It is ideally suited for use as a control and visualization system within controller-based automation systems suiting applications with central motion control or as a visualization device within a drive-based automation system.

Logic (PLC), motion and visualization in a single device
Machine-oriented and high-precision control for optimum manufacturing results
Top performance and maintenance free in the smallest of spaces without forced cooling and other moving components
Prepared for the future thanks to compliance with industrial standards
IEC 61131-3, PLCopen, PLC Designer based on CoDeSys 3
Industrial communication: EtherCAT on board and Ethernet switch integrated

I/O System 1000
Provides top performance in the tightest of spaces. At the very first glance, the I/O 1000 range impresses with the narrow design of its I/O modules, which can take up to 8 connections. They only require 0.5 in (12.5 mm) of space on conventional DIN rails.

0.5 in (12.5 mm) narrow I/O modules with 8 connection points
Permanent wiring thanks to the two-part concept
Base module and electronic module
Bus coupler for industrial communication: CANopen, DeviceNet, EtherCAT, Modbus/RS485, PROFIBUS, PROFINET
Can be mounted onto the DIN rail without the need for tools
Clear labeling concept and diagnostic concept
An LED and a labeling field are clearly assigned to each channel
64 modules can be connected in series using a backplane bus
Easy to connect thanks to the connection plan on the module

Industrial PC v800-C
The powerful v800-Cabinet for integration into the machine housing. Machine visualizations with the industrial PC v800-C can be easily scaled and implemented in a way that is optimal for the machine. The different screen diagonals and processor capacities are tailor-made for the necessary requirements of modern visualization systems, and are suitable for any machine concept. All devices are equipped with the most up-to-date, glove-friendly multi-touch glass sensors, and the operating program can be created intuitively with the engineering software VisiWinNET®.

High-resolution displays in 13.3 to 24 in
Non-rotating mass storage
Fan cooled for maximum power or passively cooled
Innovative cooling method and durable fan
IP65 protection class front
VisiWinNET® for creating intuitive visualizations

Industrial PC v800-P
The high-quality solution: v800-Protec. An appealing, elegant device design with an IP65 degree of protection, and a shape that ensures ease of cleaning, results in a product that offers simple elegance with maximum functionality and the best possible platform for demanding user interface concepts. A high degree of standardization guarantees maximum availability and protection of software investments over a long period of time.

High resolution full HD displays in 17.3 and 24 in
Maintenance-free thanks to no rotary components
IPC type with low-power Intel© mobile processors
Complies with hygienic design guidelines, no visible screws, and an IP65 degree of protection
Individualization via optional switch box

Monitor Panels
Provide a perfect overview when operating decentralized IPC solutions. Display unit for remote solutions with Controller 3200 C or Industrial PCs.

In two design versions

Embedded Line for installation
Command station

Data transfer via digital DVI video interface
Operator terminal with integrated keyboard or touch screen
Operator terminal compatible with all Lenze Industrial PCs

Monitor v200-P
The modern monitor: v200-Protec. An appealing, elegant device design with an IP65 degree of protection, and an easy-to-clean design, results in sleek elegance with maximum functionality and the best possible platform for demanding user interface concepts. A high degree of standardization guarantees maximum availability and protection of investments over a long period of time.

High-resolution full HD displays in 17.3 and 24 in
Standard HDMI or DisplayPort connection
Optional mounting up to 100 m from control cabinet PC via integrable extender
Complies with hygienic design guidelines, with no visible screws, and an IP65 degree of protection