Reduce Downtime and Service Costs!
Three-Phase Monitor Relays provide real-time status and measurement via Modbus TCP
Modbus makes data available for continuous monitoring, real time alerts and intelligent troubleshooting
Real time data improves decision making within smart control systems
Protects against phase loss, phase reversal, phase unbalance, under voltage and overvoltage
True RMS voltage measurement ensures more accurate measurement regardless of load type or wave shape
LED status indication on front face for easy troubleshooting

---
Macromatic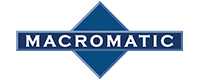 Macromatic designs and manufactures industrial control and monitoring products that control electrical processes and monitor power for damaging fault conditions.
Macromatic provides solutions for a range of OEM and MRO applications. Our products are used in water/waste water, pump and motor control, irrigation, oil and gas, HVACR, material handling, lifts and elevator and other systems requiring process control and protection.
For more information or to place an order, please give us a call at 800-558-1899 or 203-304-0777 . To purchase online please click here.