Nanotec stepper motors are becoming the ideal solution for
compact precision applications with high torque and low speeds.
Nanotec offers these products in standard and custom options:

Stepper Motors - Permanent magnet stepper motors and 2-phase hybrid stepper motors available. They provide high step angle precision and step resolution, and are powerful when a high torque is demanded at low speeds of less than 2,000 rpm. Available in many sizes and power outputs which makes them suitable for a large number of applications.
BLDC Motors - Low-price electronically commutated 3-phase brushless motors (EC Motors) are ideally suited for applications with highly smooth operation and service life. The highly energetic permanent magnets enable high acceleration and speeds of up to 14,000 rpm with excellent efficiency. Optional encoder to 1000 pulses/rev enable high-resolution positioning controls.
Motor Controllers - The new powerful stepper motor positioning controller with integrated final output stage combines the latest technology in the smallest possible space with an extremely competitive price. All new SMCI positioning controls can be quickly and easily parameterized with the NanoPro software that is available free of charge.
Linear Actuators - The universally usable linear drives offer a multiplicity of new, low-priced and powerful possible applications. Simple and flexible motor construction considerably reduces system costs, as well as featuring stroke-independent movement to any position.
Gears, Brakes, Encoders, and Accessories are also available from our website.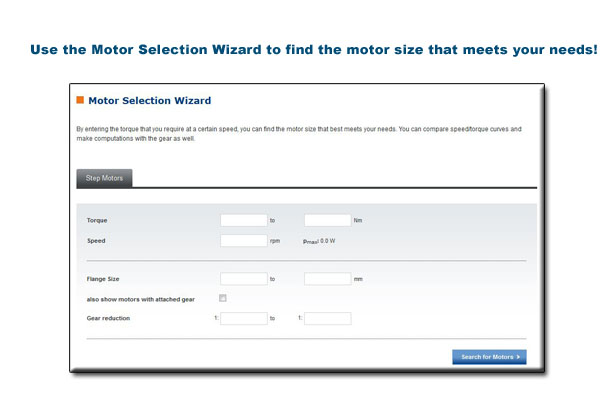 Custom Solutions and More:

Flat-sided shaft machining available for all motors of the ST and IP, PD and DB series. Shorter shaft, D-cut, keyway,, thinner, cross holes, groove, woodruff keyway, and metric thread available for all motors of the ST and DB series. Bigger, longer, hollow shaft, knurrling, timing belt wheel, and special shaft forms available for all motors of the ST, DB, protection class, and Plug & Drive with minimum order quantity. Bevel gear, worm gear, eccentric plates, spiral eccenter, clamping bolt, codec discs, timing disks, and many more accessories / gear wheels available.
Cable assembly and connector assembly available to allow for rapid motor installation. Shorter leads, longer leads, lead color variations, special lead bundlings, twisted pairs, protective hoses, shielding, and many more options are available. Connector assemblies are available as well as integrated connectors.
Custom motors with eccentric ball bearings, special flanges, high temperature windings, special ball bearings, fixing screws and seals are available.

For more information or to place an order, please give us a call at 800-876-4444 or 203-426-7700. To purchase online please click here.





Online Ordering is Now Available For All Nanotec Products
Click Here to Shop Now!