---

---
The zero-programming cobot to modernize your processes
Productive Robotics collaborative robots are safe for operators to work around, can automate mundane tasks, and are easy to program. These devices are ideal for automating simple to complex tasks of various payloads and sizes. These 4 models are built in the USA with the 7-axis design and a "No programming" user interface.
7-axis flexibility to reach around doors and more
Safe to use alongside your existing staff
Simple and intuitive interface - No Programming - drag and drop
Easy to teach, just move through the movements one time
24/7 Production - can work around the clock

---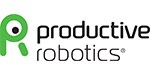 Collaborative Robotics Made Simple
Productive Robotics designs and manufactures the new generation of collaborative robots. The "OB7" robot provides simplicity in use, versatility, automation, and increased output, consistency, and quality.
For more information or to place an order, please give us a call at 800-558-1899 or 203-304-0777 . To purchase online please click here .