Red Lion Controls
HMI ProducTVity Station


This product has been DISCONTINUED and replace by the FlexEdge® Intelligent Edge Automation Platform with an HDMI output.



Red Lion's ProducTVity Station™ is a ready-to-deploy plant floor visual management system that displays real-time Key Performance Indicator (KPI) data and Andon messages on large televisions to drive productivity. Ideal for factory floors, processing plants or any place where performance needs to be tracked and monitored, this visual management system lets you create sophisticated production scoreboards using standard, consumer-grade LCD, LED or plasma TVs.

Connect, Collect, Create & Display. Today.
Displaying crucial performance indicators has never been quicker and easier than with Red Lion's ProducTVity Station. Drive performance improvements through real-time visibility for all to see. ProducTVity Station features include:

Connect – The ProducTVity Station can connect to all of your factory floor or processing equipment via serial ports or an Ethernet network. PLCs, sensors, barcode scanners and drives can communicate easily with the ProducTVity Station using the built-in database of more than 300 protocols and converters. This level of connectivity allows you to communicate with nearly any piece of equipment.

Collect & Create – Collect and calculate KPIs that are most important to you. Using Crimson 3.0 software, you have all the tools you need to quickly and easily create and calculate stunning scoreboards in minutes. Additionally, the ProducTVity Station performs data logging tasks for deep-dive analysis.

Display – Output KPIs and scoreboards in real time by simply plugging in any TV or projector. The ProducTVity Station includes a DVI output that can be split to mirror displays in multiple locations throughout your facility. In addition to displaying KPI information, the ProducTVity Station can show equipment status and/or Andon messages when an issue arises. Visualize the most important data to ensure maximum efficiency.

Remote Monitoring & Control – Make your data actionable with the ProducTVity Station, a visual management solution that allows you to connect, collect and display your most critical performance data in real time to help drive productivity. Receive updates even when you are not on location via SMS or email. The ProducTVity Station even has a built-in web server for remote accessibility.



Download the ProducTVity Product Manual brochure in *.pdf format


Download the ProducTVity Station brochure in *.pdf format


Download the Protocol Line Card brochure in *.pdf format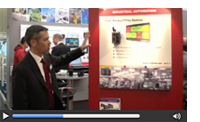 ProducTVity Station: Visual Management Features
Jesse Benefiel, Red Lion's Vice President of Product Management, discusses the features of the ProducTVity Station, a ready-to-deploy visual management solution.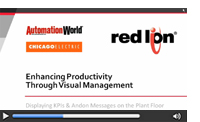 Enhance Productivity Through Visual Management
This webinar gives you the opportunity to learn more about how to use visual management with real world examples from Red Lion Controls and Chicago Electric.