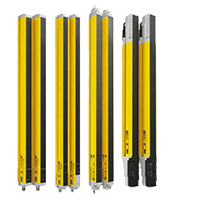 Are you looking to reduce complexity? ABB's Orion series boasts a local reset button that can be directly connected to the light curtain. This means there is no need for a cable or extra control module. Each light curtain can monitor the actuators without an extra control module. There is no need for a remote muting module and resolution is guaranteed along the whole length of Extended units; this means no dead zones!
With the Orion series installation is sped up with an integrated alignment aid, rotation brackets and M12 connectors for quick cabling. Downtime is reduced with extensive error indicators, protective tubes and lens shields and coding that defends against mutual interferences.
Integrated Features
Blanking - When an object is allowed to always be in the detection zone during normal operation, a finger or a hand will stop the machine.

Coding - Allows light guards to be placed close to each other without disturbing each other.

EDM (External Device Monitoring) - Allows connection of e.g. contactors to the light guards and still reach the highest level of safety.

Local reset - Allows connection of a reset button to the light guard.

Muting - Allows material/pallets to travel through the light curtain without stoppages while preventing personnel from entering the hazardous area.

No Dead Zone - The detection zone is as long as the device.
For more information or to place an order, please give us a call at (800) 558-1899 or (203) 304-0777.
To purchase online please click here.
Learn more about the Orion Series of Light Curtains

Walker Industrial is proud to join the Electronic Components Industry Association. The ECIA is a trade association made up of the leading electronic component manufacturers, their manufacturer representatives and authorized distributors. Walker Industrial shares the ECIA's common goal of promoting and improving the business environment for the authorized sale of electronic components to the end customer.
For more information or to place an order, please
give us a call at (800) 558-1899 or (203) 304-0777.




CALL US FOR ALL OF YOUR AUTOMATION NEEDS


Walker Industrial is America's Preferred Automation Solutions Provider