UNIVERSAL BDF200 CONTROL STATION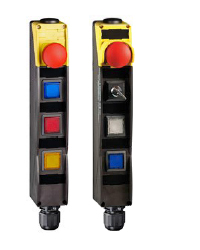 The BDF series control stations are designed to offer up to 4 operators for various machine or process controls conveniently located at the guard door in one compact, easy to install housing. The BDF series eliminates the need for larger custom control boxes to be designed and manufactured for guard door controls.
The Universal Kit model (-2875) has several positions, designated LT in the part number, which can be converted in the field to either a pushbutton, an illuminated push button, or an indicator light. This conversion is based on the wiring of the contacts and/or LED for each position, and the application of appropriate colored button caps provided. The accessories package includes 7 opaque button caps in various colors, 5 semi-transparent button caps in various colors, and 4 lens inserts.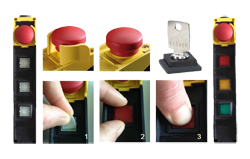 For each LT position, select a lens and button cap in the desired style (opaque or semi-transparent) and color.
Place the lens.

Place the button cap.

Push the button to click the cover into place
The LT positions can be converted into one of three options:
For a pushbutton, use an opaque cap and connect only the contacts for that position.
For a illuminated pushbutton, use a semi-transparent cap and connect the contacts and the LED.
For a indicator light, use a semi-transparent cap and only connect the LED.
Applications
Material handling systems

Packaging machinery

Chemical processing equipment

Robot cells

Folding or brake presses

Filter presses

Punching machines

Printing machines

Injection molding

Palletizers

Packaging equipment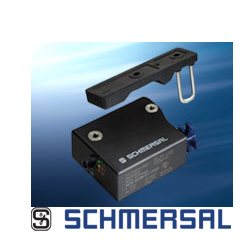 SCHMERSAL - Safe solutions for your industry
Safety in system: Protection for man and machine! Under this motto, the Schmersal Group offers their customers the largest range of safety switching appliances and systems worldwide for the protection of human life and machines.
The comprehensive range of more than 25,000 products includes safety switches, solenoid interlocks, emergency stop - switches, security sensors, safety mats with safety function, photoelectric light barriers and end switches, which include limit switches, position switches and micro switches. Based on this program Schmersal configured, within the scope of the "Safety Services" tailor-made systems and industry solutions for machine safety.
For more information or to place an order, please
give us a call at (800) 876-4444 or (203) 426-7700.
Online Ordering for Schmersal Products is Available - Shop Now!



CALL US FOR ALL OF YOUR AUTOMATION NEEDS


Walker Industrial is America's Preferred Automation Solutions Provider