---

---
Maintain Safe Air and Breathe Easily




Perfect for conference rooms, classrooms, offices, and other indoor spaces, keep clean air coming in by pushing old air out! Dramatically improve the air quality in any room with the quiet, portable, easy-to-use, and affordable Setra AIIR Watch. This air quality module maintains negative pressure in a room, minimizing comingling with the air in common spaces like hallways by sanitizing and venting old air. This Self-contained unit can fully cycle the air in a room 14 times per hour in a 1400 ft³ room, sanitizing exhaust air by neutralizing up to 99.9% of virus, bacteria, and molds with true HEPA filter and UV-C.


Creates an isolated Negative Pressure Room
Includes free external air pressure monitor
Sterilizes exhaust air with UVC light and HEPA filter
Compact, quiet, consumer/office ready
Easily vent through open window, ceiling tile, or existing HVAC system

---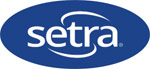 Setra Systems
Building on the heritage of innovation, Setra continues to design and deliver sensing devices for many diverse applications and industries — innovating solutions for HVAC & building automation, industrial OEM, test & measurement, and critical environments.
---
For more information or to place an order, please give us a call at 800-558-1899 or 203-304-0777 . To purcse online please click here .