Provides a flexible, secure platform to remotely monitor and control assets across
industries that include oil & gas, power & energy and water/wastewater.
The benefits of using RAM 6000 RTUs include:

Real-time access to mission-critical data through built-in Modbus gateway

Software Development Kit (SDK) for custom application support

Secure point-to-multipoint Modbus polling saves time and resources

Integrated security firewall provides intrusion protection

Simplified deployment and configuration with single web-based GUI

Support for new and legacy devices with RS-232 serial or RJ45 Ethernet

Rugged, reliable design supports the toughest applications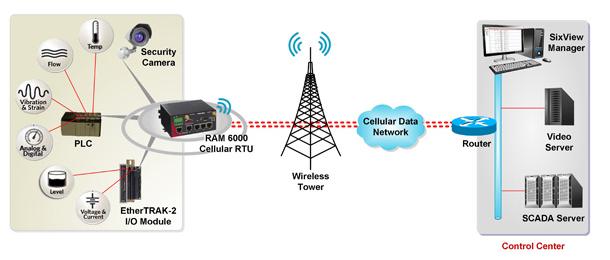 Features:

Modbus I/O concentrator stores PLC data locally
Native Modbus support, peer-to-peer transfers and message forwarding
Software Development Kit (SDK)
Point-to-multipoint site polling
-40° to +85°C operating temperature
DIN-rail mounting
Power over Ethernet (PoE) option
2G/2.5G & 3G cellular
Modbus data access using IPSec/SSL
Stateful firewall and packet filtering
Connect multiple devices to a single WAN link
Remote TCP/IP based capabilities
RS-232 serial connection or RJ45 Ethernet connections
Serial-to-IP conversion

For more information or to place an order, please give us a call at 800-876-4444 or 203-426-7700. To purchase online please click here.





Online Ordering is Now Available For All Sixnet Products
Click Here to Shop Now!