INDUSTRIALPRO® 6000 ROUTER

Sixnet's IndustrialPro® industrial cellular routers offer a cost-effective wireless alternative for secure network communication. The rugged IndustrialPro series is ideal for harsh environments where equipment wiring space is limited. Ethernet and serial interfaces provide easy wireless communication between SCADA servers and remote RTUs, PLC/controllers and other automation devices. Additionally, support for 4G LTE with 3G fall back, provides streaming video support for monitoring applications. Convenient VPN capabilities, data encryption and stateful firewall configuration can be used to secure remote networks.
Supports 4G LTE connectivity with fall back to 3G and 2G
Fast remote site access lowers total cost of ownership
Web-based managing tools simplifies deployment
Small footprint allows connectivity in tight spaces
Built-in security enables infrastructure protection
Rugged, reliable design supports the toughest applications
Features
Ubiquitous Cellular Connectivity
Offers a cost-effective alternative to traditional landlines

Supports cellular technology
Built-In Security & Routing Capabilities
Protects against intrusion

Provides ultra-reliable and secure cellular connection
Lower Cost of Ownership
Eliminates visits to remote sites

Reduces infrastructure complexity
Rugged, Compact Design
Deploys easily in space-constrained locations

Approved for hazardous locations
Web-Based Configuration Management
Simplifies deployment and configuration
Provides remote monitoring and control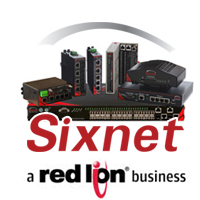 SIXNET - Connect. Monitor. Control.
Sixnet, a Red Lion business, provides innovative machine-to-machine (M2M) industrial networking solutions that integrate wireless, automation and Ethernet switch technologies to better serve customers and markets worldwide. Sixnet's flexible solutions enable organizations to cost-effectively increase business productivity. By integrating powerful enterprise-class networking with rugged reliability, Sixnet meets the standards of the most demanding applications in industries such as power & utilities, oil & gas, transportation, maritime, military, banking, retail, video & security, mobile data and more.
For more information or to place an order, please
give us a call at (800) 876-4444 or (203) 426-7700.
Online Ordering for Sixnet Products is Available - Shop Now!



CALL US FOR ALL OF YOUR AUTOMATION NEEDS


Walker Industrial is America's Preferred Automation Solutions Provider