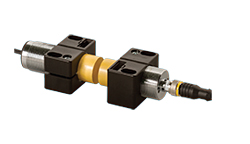 NEW! TURCK CONTACTLESS POWER & DATA TRANSMISSION WITH I/O-LINK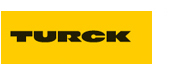 TURCK USA has launched the NIC contactless inductive coupler, a wear free alternative to classic connectivity solutions. The new NIC series can be used for data and energy transmission and is able to transfer up to 12 Watts and .5 amps of power across an air gap of 7 mm. With a tolerated angle offset up to 15 degrees and a parallel offset up to 5 millimeters, the couplers can also be fitted in restricted and non-standard mounting locations while still allowing for full power transfer.
As a "contactless connector" the new product series is an ideal solution for the wear problems occurring with plug and wiper contacts subject to severe stress. In overhead conveyor systems or on rollers, the inductive couplers offer a maintenance-free alternative to the wear-intensive slip ring. The speed of the system is ideal for use in applications with high cycle rates such as tool changer robots or rotary indexing tables: The secondary unit is operational within 10 milliseconds and supports Dynamic Pairing, i.e. the coupling of any primary and secondary units. The application specific tag in the IO-Link protocol makes it possible to identify the relevant IO-Link device precisely, which means it is possible to replace the use of additional identification equipment such as RFID for a tool or skid change application.
SOLUTIONS FOR DIFFERENT APPLICATION SCENARIOS
Two PNP Switching Signals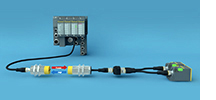 Solution 1: Up to two PNP switching signals can be transmitted via the secondary part NICS-M30-IOL2P8-0,3-RKC4.4 either from power clamp sets or from two different sensors that are connected via a VB2-splitter.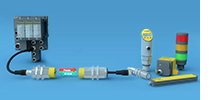 Solution 2: If the primary part NICP-M30-IOL2P8X-H1141 is connected to an IO-Link master, data from measur-ing IO-Link sensors can be transmitted bidirectionally. You can, of course, also connect IO-Link-capable actuators such as tower lights or the TBIL-M1-16DIP I/O hub with 16 digital PNP inputs.
Eight PNP Switching Signals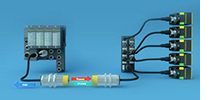 Solution 3: The primary part NICP-M30-8P8-0.3-RSC12T works as an IO-Link master, allowing up to eight switching signals to be processed via the I/O hub TBIL-M1-16DIP. The entire IO-Link communication is handled internally, requiring no configuration for the user.
Call us today for more information or to discuss your application needs!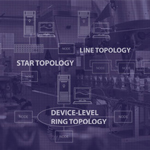 TURCK - Sense It!..Connect It!..Bus It!
TURCK is focused on the factory and process automation industries, and producing products that uphold uncompromising standards for reliability and functionality. They continue to advance their innovative technology to deliver unmatched product breadth, global accessibility and application expertise. TURCK is committed to ensuring their customers have the most effective, economical products available.
For more information or to place an order, please
give us a call at (800) 876-4444 or (203) 426-7700.
Online Ordering for TURCK Products is Available - Shop Now!



CALL US FOR ALL OF YOUR AUTOMATION NEEDS


Walker Industrial is America's Preferred Automation Solutions Provider