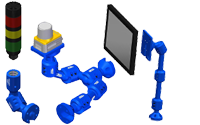 THE MOUNTING SOLUTION
The Swivel-Link product line has been used for hundreds of different applications in all types of industries. Used for vision systems, cycle start buttons, sensors, lights, monitors, part fixtures, tool holsters, and robot applications. The possibilities are endless for your mounting solution.
Learn more
The standard series allows you to pick and choose solutions to everyday mounting needs.

Learn more

The vision camera series mounting plates are designed to fit specific camera brands and types.

Learn more

The XS series has the same ball and socket design principle as the standard series on a smaller scale.

Learn more

These kits add the ultimate in ergonomics for machine cycle start and emergency stop buttons, as well as indicator lights and interface monitors. Learn more

Sensor threaded mounts make it easy to position and aim optic, inductive, or capacitive sensors.

Learn more

The vision lighting series light adapter plates are designed for common area, bar, and spot lights.

Learn more

The simple way to securely mount your vision camera and lighting in one easy to order kit.

Learn more

The EOAT (End of Arm Tooling) kits are simple solutions that encompass a vacuum end of arm tool for an industrial robot to pick up virtually any shape or profile.

Learn more
For more information or to place an order, please give us a call at
(800) 876-4444 or (203) 426-7700. To purchase online please click here.
Online Ordering is Now Available For All Swivel-Link Products - Shop Now!



CALL US FOR ALL OF YOUR AUTOMATION NEEDS


Walker Industrial is America's Preferred Automation Solutions Provider