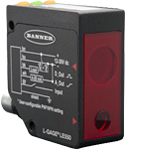 Banner Engineering has just introduced a new laser sensor for your challenging measurement applications: the LE550 laser sensor. Designed with linear array technology, the LE550 non-contact laser sensor provides high repeatability and accurate measurement for challenging targets ranging from shiny metal to black rubber.

The LE550's linear array technology provides great performance and resolution regardless of detection object's color or sheen.

Ready to measure from 100 to 1000 mm right out of the box
Easy adjustment with a two-line, eight-character intuitive display
Linear array provides repeatability and accuracy for challenging targets
Learn more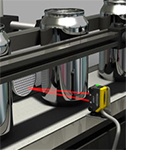 Rely on Banner for industry-leading photo eyes, sensors, vision sensors, wireless sensors, machine safety, e-stop devices, vision lighting, and a wide assortment of indicator lights, tower lights, stack lights, and pick to lights. -
Learn more
For more information or to place an order, please give us a call at
(800) 876-4444 or (203) 426-7700. To purchase online please click here.
Online Ordering is Available For All Banner Engineering Products - Shop Now!



CALL US FOR ALL OF YOUR AUTOMATION NEEDS


Walker Industrial is America's Preferred Automation Solutions Provider