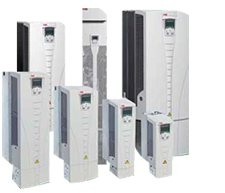 ABB ACS550 standard drives can be used in a wide range of industries. Typical applications include pump, fan and constant torque use, such as conveyors.
The ACS550 drives are ideal in those situations where there is a need for simplicity to install, commission and use and where customizing or special product engineering is not required.
0.75 to 355 kW & 1 to 500 Hp
Vector control
Built-in EMC filter and Modbus fieldbus interface
Swinging choke for superior harmonic reduction
Coated boards for harsh environments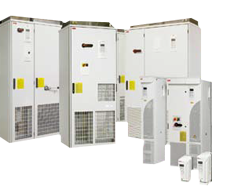 ABB ACS800 industrial drives are available both as complete AC drives and as modules to meet your requirements as a user, OEM or system integrator. Single drive modules configuration contains a rectifier, DC link and an inverter in one single AC drive unit. They can be installed without any additional cabinet or enclosure, available in wall-mounted, freestanding and cabinet-built constructions. They are specifically designed for industrial applications in process industries such as the pulp & paper, metals, mining, cement, power, chemical, and oil & gas.
For more information or to place an order, please give us a call at (800) 558-1899 or (203) 304-0777.
To purchase online please click here.
0.55 to 5200 kW & .75 to 6,000 Hp
IP21 and IP55 enclosure classes
Direct torque control (DTC) as standard
EMC filter, choke and brake chopper
Supports a wide range of fieldbus protocols
Flexible I/O and encoder options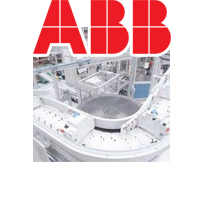 ABB
- Power and Productivity for a Better World
ABB is a leader in power and automation technologies that enable utility and industry customers to improve their performance while lowering environmental impact. ABB is the world's largest drives manufacturer. The ABB Group of companies operates in around 100 countries and employs more than 140,000 people.
For more information or to place an order, please
give us a call at (800) 558-1899 or (203) 304-0777.




CALL US FOR ALL OF YOUR AUTOMATION NEEDS


Walker Industrial is America's Preferred Automation Solutions Provider