A convenient M12 eurofast connection requiring no special cables, and comes in 4 temperature ranges of 0-100°C, -50-50°C, 0-150°C, and -50-150°C!
Benefits of using TURCK's TTM series transmitters:

Miniature temperature transmitters come pre-scaled so there is no need for adjustment and eliminates the need for a RTD PLC input card.
Four standard ranges from -5 to 50°C, 0 to 100°C, -50 to 150°C and 0 to 150°C.
4-20 mA output with 4-pin M12 eurofast connector.
Utilizes the same Pt-100 technology as TURCK's other temperature products.
Comes in 3 mm and 6 mm probe options in lengths of 13 mm, 24 mm, 50 mm, 100 mm and 150 mm.
Commonly used in OEM applications, hydraulics, cooling lines, and lubrication applications.
IP67 protection and stainless steel sensor material suitable for food and beverage industry.
Ambient and storage temperature of 40 to +80°C.
Pt 1000 Platinum measuring element (DIN EN 60751).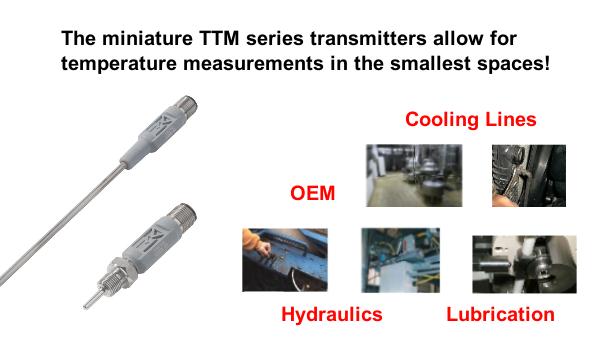 Specifications:

10-24 VDC Operating Voltage
4-20 mA Current Output
Short Circuit Protection
Reverse Polarity Protection
Class A Accuracy
100 bar Pressure Resistance
Fully Encapsulated
IP67 Rated to Withstand Extreme Ambient Conditions
2-wire Technology
Integrated Processing Electronics
Pt1000 Measuring Element
Process Connection via Clamping Ring, Thermowell or G1/8" Male Thread
Customized Solutions Upon Request

For more information or to place an order, please give us a call at 800-876-4444 or 203-426-7700. To purchase online please click here.





Online Ordering is Now Available For All TURCK Products
Click Here to Shop Now!