MC8-16C1: LED 8 Line Lobby Message Center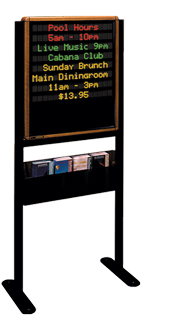 The Edwards MC8-16C1 Message Center is an indoor rated multi-color LED communication center. It may be used as a stand-alone message center or can be networked into a company wide communication system. When networked, one message can be transmitted from the controlling computer software to the serial computer interface on all the message centers within the facility or discrete messages can be sent to specific addresses within the communication network of messages centers.
The unit has a solid oak case and is designed for free standing floor installation but is supplied with wall mounting brackets if that style mounting is required. For use indoors in commercial and industrial environments.
Designed for indoor communication, this Edwards Message Center is designed for installation in company lobbies to greet guests and provide them with information at a glance. Such information may include meeting room assignments, safety goals, changes in employee benefits or other company announcements. May also be used in commercial establishments such as stores and restaurants to assist with internal and external communications.
Features

Stores up to 26 pages of messages

100,000 Hr. Multi-color LED Lamp Technology

Five message speed settings

7 message operation modes

1 month typical memory retention

Built-in real-time clock, 12 or 24 hour format
Built-in serial computer interface-RS232 and RS485

Addressable

Password protected

Brochure rack and wall mount brackets supplied

Power cord with 3 prong plug supplied

Continuous message entry with automatic centering in any mode
Hand Held Remote Programmer
A 54 key hand held remote control keyboard with easy to understand programming instructions is supplied with each Edwards Message Center - MC-RP (supplied with each unit). Batteries included.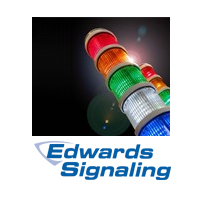 Edwards Signaling - Audible & Visual Signals
Edwards Signaling manufacturers a complete line of audible and visual signals for industrial and commercial applications. Products include: fire alarm control panels, flashing and steady LED and halogen beacons and lights, strobes, vibrating horns and bells, outdoor warning sirens, public address and intercom systems, LED message centers and electronic system signals.
For more information or to place an order, please
give us a call at (800) 876-4444 or (203) 426-7700.
Online Ordering for All Edwards Signaling Products is Available - Shop Now!



CALL US FOR ALL OF YOUR AUTOMATION NEEDS


Walker Industrial is America's Preferred Automation Solutions Provider