VS8 Series Miniature Sensors fit into the smallest spaces and provide exceptional sensing performance and precision. They are available in red laser, red LED, or blue LED models with opposed, retroreflective, adjustable or fixed-field background suppression sensing modes.

Miniature sensor for installation in the smallest of spaces
Red laser models provide bright, precise laser light spot for optimum small part detection
High switching frequency for detection in even the fastest processes
User-friendly operation using electronic push button or remote input provides reliable and precise detection
VS8 Miniature Sensors
Versatility: Sensors in the VS8 series have a space-saving form factor (21.1 mm x 14.6 mm x 8 mm). They are available in laser and LED models and in four different sensing modes. You can match the sensing technology to the application without altering equipment design.

Rapid Integration: Industry standard side mounting holes with 15 mm spacing will simplify installation on new or existing equipment. The dovetail mounting option allows ±10° tip/pivot adjustments for quick, precise alignment. High-visibility status LEDs, electronic push-button and remote input teach make it easy to program the sensors.

Precision: Models with a red laser sensing beam have a bright, precise spot for detecting small objects and multicolored targets. Red laser models with adjustable or fixed-field background suppression can detect an object with a diameter of 0.5 mm at a distance of 70 mm.

Free Technical Support: Free lifetime telephone support with no service or support contract required.

Learn More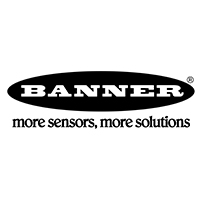 Worldwide leader in process automation and industrial automation
Banner is a global leader in process and industrial automation, helping customers increase efficiency, reduce costs, ensure quality, monitor and control processes, and safeguard employees.
For more information or to place an order, please give us a call at 800-558-1899 or 203-304-0777 . To purchase online please click here .