TURCK, a specialist in sensor, fieldbus, and connectivity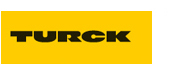 Turck is a leading manufacturer of Inductive Proximity Sensors, Capacitive Proximity Sensors, Connectors, Cables, Cordsets, Flow Sensors, Ultrasonic, Intrinsically Safe Products and Automation Controls.
Turck's products and automation solutions increase the availability and efficiency of your systems, whether they are applied in the chemical and pharmaceutical industry, transport and handling, food and packaging, or in-machine and plant construction. Through intensive dialog with customers, Turck is able to pair industry-specific knowledge with electronics development and production of the highest level to ensure optimal solutions for all of your automation challenges.
New at Turck!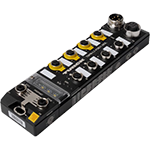 TBPN Hybrid Safety Block I/O Module
Turck's PROFISafe block I/O module is the first to deliver both safety and general purpose I/O to the PLC. This TBPN module features up to IP69K protection, which allows for mounting directly on to the machine. It has two dedicated safety input channels, two configurable safety input/output channels, and four dual input/output general purpose I/O channels. Learn more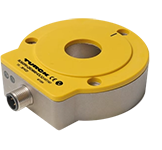 QR24 Sensor with IO-Link Technology
The QR24 is now available with IO-Link, serving as the world's first contactless rotary position device with this interface. Thanks to IO-Link, this single turn device can be connected with standard 3-wire cables rather than expensive, shielded twisted pair cables. Learn more
Turck's Wide Automation Offering
Connectivity
Connectivity products that connect the sensing devices to higher-level control components - and much more! Explore
Encoders
A complete line of incremental and absolute encoders with unique advantages. Explore
Industrial Network
Intelligent bus stations, with built-in bus electronics, interface with your existing devices. Explore
Instrinsic Safety
Eliminate the need for a dedicated ground with safety products & isolated barriers. Explore
Relays & Timers
Superior reliability combined with many time-saving standard features, resulting in simplified testing and minimum down time. Explore
RFID
The first modular RFID system with built-in I/O on the market. Plus, BL ident can be integrated into existing platforms. Explore
Sensors
Inductive Proximity, Capacitive Proximity, and Ultrasonic Proximity sensors, as well as Flow Sensors, Pressure Sensors, and Temperature Sensors. Explore
For more information or to place an order, please
give us a call at (800) 558-1899 or (203) 304-0777.




CALL US FOR ALL OF YOUR AUTOMATION NEEDS


Walker Industrial is America's Preferred Automation Solutions Provider