| | |
| --- | --- |
| Banner Laser Distance Measurement Sensors | |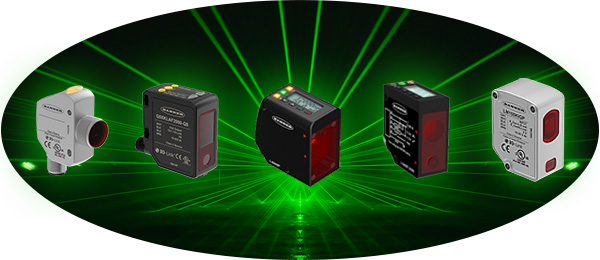 Laser measurement sensors from Banner Engineering solve a wide variety of Discrete, Analog, and IO-Link sensing applications. Our portfolio of laser sensors includes powerful problem solving, high precision, and long-range sensors.

Laser sensors have traditionally been used for their extended range, visible beam, small spot, and precise detection capabilities. These benefits have often been outweighed by their higher costs compared with other technologies. In recent years, pricing on components has been reduced and the technology has advanced so that the benefits of laser sensors outweigh the cost differential.

Banner Laser Measurement Sensors have been designed to excel in harsh environments and remove common sensing barriers.
Optimized for the Most Challenging Targets

Automatic Gain Compensation
and Highest Excess Gain in Class



Variety of Beam Spot Sizes
for Consistent Detection



Other sensors can be oversaturated and experience increased error from shiny targets. Banner laser sensors automatically decrease gain to maintain accuracy.

Small spot minimizes measurement variation across color transitions




Change sensor orientation for more reliable detection of shiny objects

Small beam spot is ideal for precise profiling of small features




Similarly, dark objects provide a very weak signal, so our laser sensors automatically increase gain to amplify the received signal and reliably measure targets that other sensors can't see.

Large spot provides averaging across rough surfaces for more measurement stability



Some Applications for the sensors:
Detection of 3mm hole in metal part
End of roll detection - measuring diameter and using dual mode for intensity changes

Conveyor Jam Detection
Dark objects at sharp angles
Fork truck driver aid using PFM outputs to tower light or WLS27 Pro

Airport Metal Cart Detection
Sugar Beet Pile Height
Plastic Pellet detection in Silos
Molten Metal detection

Line Flow Control
Uneven Roll diameter – measures each side to make sure even and signals a TL50 if become lopsided

Print head positioning
Wheel rim manufacturing – 3 pairs to verify tolerance
Double Sheet Detection
Granite thickness profiling
Cap in place/correct orientation on very small pharma vials